The Pros & Cons of Fenphedra for Weight Loss
Fenphedra is said to be a high performance weight loss supplement. Fenphedra, however, has more edge than other products, simply because of one of the ingredients included in the pill.
First, Fenphedra sounds like "Phentermine+Ephedra". It is marketed as a 'hardcore fat burner'. So, it not good for softcore lover or faint hearted. Meaning, if you are weak or cannot tolerate some serious side effects, FenPhedra is not for you.
Here is the list of ingredients:
Dicaffeine Malate is a fancier form of caffeine. There are no studies that can prove that this caffeine is better than the other one.
Chocamine is a cocoa ingredient that contains certain amino acids.
Phenylethylamine is a chemical that helps counteract the jitters that you might feel because of the caffeine elements.
Synephrine is an effective stimulant that is found to be a better substitute to ephedra, though it will not equate to the latter one's results.
The ingredient that stands out is the Humulus Lupus. This is used to treat insomnia and is very effective in counteracting the effects of the stimulants. This makes Fenphedra much more stable than other products.
Fenfedra does not use proprietary blends. This is a critical thing when looking for something that is truly effective. Proprietary blends on supplement facts hide the actual amount of ingredients available in a pill. This is a mechanism to prevent competition from seeing their formula, and this is disadvantageous to many consumers because they might not be getting the right formula.
Customers review and feedback
There are merly 22 reviews on Amazon and most of them are negative. Now let's clearly analyze the consumers feedback. There are 8 positive reviews and 14 negatives as of writing this article. Please note that 50% customers have left 1 star rating. That's certainly not encouraging considering the fact that another 14% have left just 2 star.
While analyzing a diet supplement for purchase, buy it only if it has 70-80% good reviews. When you have 70% bad reviews you must reject it!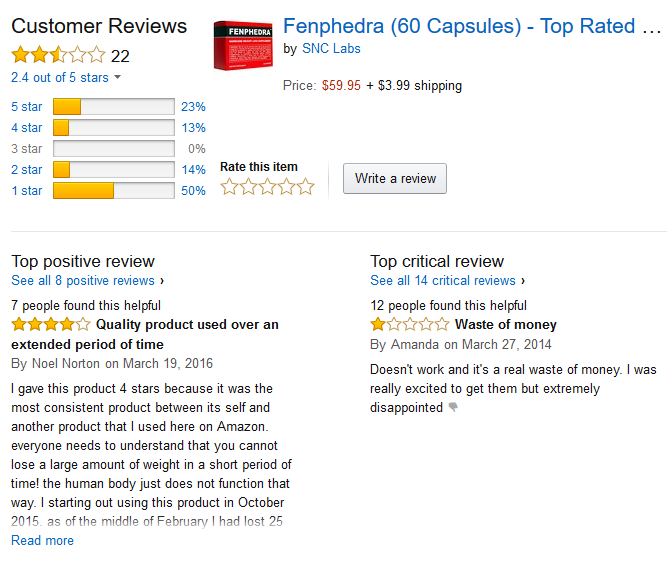 Possible Side Effects
It has caffeine like stimulant therefor not free from side effects. You may experience abnormal heart beat, nausea & vomitting etc. You may also experience sleeping disorder if taken in the late hours.
About Phentermine and Ephedra
Phentermine is a approved anti-obesity drug and 37.5mg prescription was very popular. You can read about Phentermine history and all the brands here. Ephedra HCL on the other hand, no longer approved as a weight loss medication. The combination on Ephedra and Caffeine was so deadly and was called 'EC stack'. Now EC stack is illegal fat burner!
Where to buy it?
First check recommended Phentemine brands on our homepage
We do not recommend this product for our visitors. If you still want to buy it you do so from Amazon. It cost about $60 for one month supply. However for the same price you can buy our highly recommended Phen375. Please visit official website www.buyphen375.com to place your order
Conclusion
All in all, Fenphedra is not a good product and because of the added ingredients, you wilhave any problems with the jitters and you will feel more stable in using this weight loss pill.