You have come to the right page if you have seriously decided to shed some pounds this new year. Our detailed research and analysis on different slimming pills on the market have made us recommend PhenQ for losing some pounds quickly and get fit fast.
But don't just go by our words. Read on to know the reasons behind recommending PhenQ. Take slimming pills only for few months. Rely more on diet control and regular exercising for long lasting weight loss.
PhenQ: The highlights & Must know FAQs
PhenQ is being marketed as a multi-edged fat cutting sword, looks little exaggerated!
It is another non-phentemine pill being sold in the name of Phen.
It has appetite suppressants, metabolism boosters, energy and mood enhancers in its ingredients list.
Ingredients are said to be natural and herbal. But remember, herbal doesn't mean safe or side effects free!
Package & Pricing
Cost: One bottle with 60 pills is priced at $69.95. If one buys 3 bottles (buy 2 get one free offer), it comes to $46.63 per bottle. Another offer is of 5 Bottles (buy 3 get 2 free) where cost per bottle comes to $37.99.
In the UK it costs £ 45.95 per month in the basic package. With 2+1 bottle offer it costs £ 30.63 per month and with the 3+2 bottles offer it costs £ 25.99 per month.
One bottle has 60 pills and lasts for one full month.
Potential Results
The rate of weight loss is around 7-13 lbs a month as per the testimonials shown in the official website. (User testimonials with before and after pictures are mostly misleading in slimming pills online market).
We firmly believe that weight loss results are more dependent on workout routine and commitment of the dieters than slimming pills taken.
Guarantee & Commitment by Seller
The seller gives a 60 day money back guarantee which starts from the day of receiving the ordered bottles. It guarantees a full refund excluding shipping cost if any on returning of the unused bottles in the original packaging to them.
The Ingredients
There are 9 ingredients listed in its ingredient list which are discussed in detail in our Ingredients analysis part.
Some of the ingredients especially a-Lacys Reset, Piperine Extract, Chromium picolinate, Capsimax powder and Caffeine are very well known. These are commonly found in all popular diet pill brands. For a detailed review of ingredients click here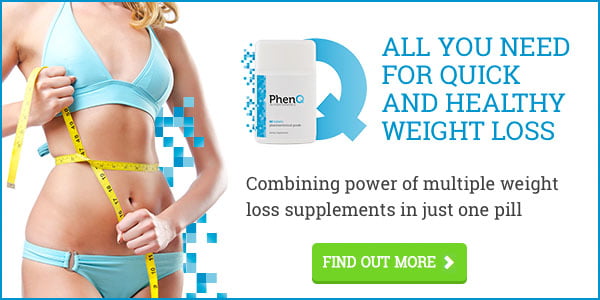 Who can go for PhenQ? Is it ideal for you?
Ideally slimming pills should be used only to provide a boost in weight loss rate in our slimming schedule. With any popular and so called proven slimming pill brand, one has to be under controlled diet and do regular exercises.
For people who want to shed up to 40 pounds in next 6 months, PhenQ looks ideal.
If your New Year Resolution is to get fit and become healthier try PhenQ for a kickstart.
People who are determined and are ready to combine exercise and diet control when on PhenQ may go for it.
Who Can Use It?
Like any other slimming supplements men and women aged between 20 – 60 years can try PhenQ provided they are not under any other medication.
Ideal for people who have set weight loss goal for a special occasion.
Best for determined, disciplined and self-motivated slimming aspirants.
Remember, it is not a miraculous slimming pill and in fact there's no such thing in the whole marketplace.
PhenQ works if you work on it.
What matters the most for you now?
Think aloud. What are you really looking for?
Are you searching for a capsule that cuts your body fat at throw away prices in no time without any side effects?
Dude! That's impossible. Slimming aid market is overflowing with fake products with false claims. Don't fall prey to them.
Following is my priorities list in order when it comes to buying slimming pills
Must be a real slimming aid, not fake.
Minimum side effects, health matters a lot to me.
Should be priced reasonably, money matters to me.
I prefer appetite suppressants dominated pills over fast fat burners.
In our analysis of different brands of diet supplements on the market on the basis of above points, PhenQ topped our list!
I may look little biased in your eyes as most of the review writers online recommend fat burners over appetite suppressants. Following are the reasons behind my favoritism for appetite controllers.
I always wondered, if human beings by nature had full control on eating, could there be this obesity menace?
I try to watch what I eat, but at times I go out of control. This happens especially if my favorite food, snacks and sweets are kept in front of me. I prefer appetite suppressants for mainly this reason.
Another reason for my vote for them is, my readings so far on weight loss pills ingredients hint me that appetite suppressants are far less harmful than fat burners.
You decide as per your priorities list.
How PhenQ is different from other such supplements?
We ranked PhenQ best above all for this new year for following reasons:
It addresses all issues that causes weight gain namely overeating, metabolism slowdown, low energy levels.
Appetite controlling substances: a-Lacys Reset®, Caffeine Anhydrous and Nopal Cactus extracts are mainly appetite suppressants. a-Lacys Reset® is the main ingredient in PhenQ formulation. It is a blend of alpha lipoic acid, cysteine and magnesium.
Metabolism boosters: Caffeine Anhydrous and Capsimax® powder.
Energy boosters: Caffeine Anhydrous, Chromium Picolinate and Calcium Carbonate
Caffeine Anhydrous is one such ingredient that suppresses hunger, increases metabolism and gives extra energy. It is actually a stimulant which can have some immediate side effects like giddiness, sleeplessness and headaches till you get used to it.
A complete meal should have right type of food -carbs, fats and proteins. In the same way a complete slimming pill should contain hunger controllers, fat burners and well as energy boosters. PhenQ looks great on this front.
Reasons to buy PhenQ
Most of the ingredients are well known for aiding weight loss. So it doesn't look like another gimmick or a wonder pill making impossible claims.
Prices are on slightly on a higher side when compared to the market as a whole. The popular offer (Buy two bottles, get one free) 3 months' supply comes at around £ 30.63 or $47 per month.
If you buy from official website you get access to their slimming guides and even get 6 months money back warranty on unopened unused bottles.
Click here to Read Detailed review of ingredients at
Who should not try PhenQ?
Kids
Pregnant women
People under medication
People suffering from serious ailments
How should you take PhenQ?
Official website directs you to simply take one PhenQ pill with your breakfast and one with your lunch. Thus two pills a day.
Do not exceed the recommended dosage. Because PhenQ contains caffeine and other ingredients formulated to increase your energy levels, you are not recommended to take PhenQ after 3pm as to avoid interruption in your sleeping patterns.
 If you are caffeine sensitive limit your intake of coffee and other caffeine-containing beverages while taking PhenQ to minimize immediate side effects of caffeine.
For Best results with Phen Q
Take it easy but seriously
Just make a simple diet plan in mind and follow that.
Keep aside some time for physical fun everyday– running, playing with kids, outdoor games, some romance (both indoor & outdoor!), gym workouts etc
Measure your weight every weekend and get motivated!
Stop pills after you reach your goals; continue with your diet control and physical fun activities and maintain your body shape.
Get ready for this summer now itself, Order PhenQ
We wish you successful weight loss journey before this summer. Click on the image below for discounts & special offers for 2020.